Det smukke Agia Triada kloster ligger omtrent midt på halvøen Akrotiri nordøst for Kretas næststørste by, Chania. Nærmeste ferieby er dog Stavros, der ligger 5 km mod nordvest.
Alene beliggenheden er turen værd. Klosteret ligger midt i den flotteste natur med olivenlunde, vinmarker og bjerge i baggrunden. Det eneste som trækker lidt ned er Chanias lufthavn, der ligger lidt over 2 km mod syd.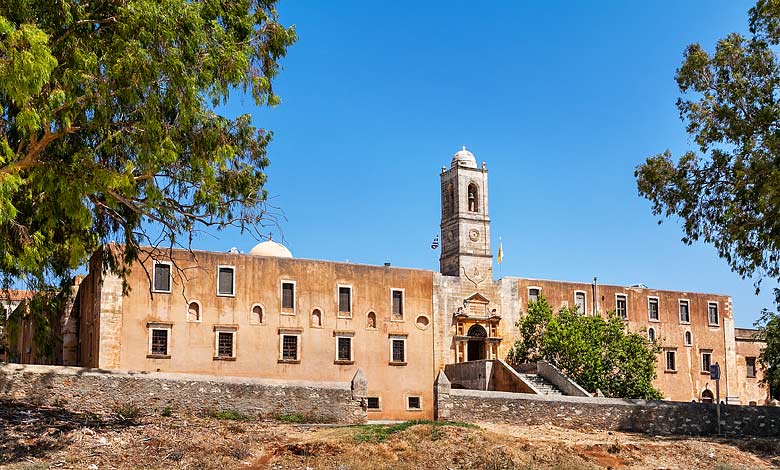 Agia Triada klosteret blev bygget i det 17. århundrede af to brødre fra en venetiansk adelsfamilie. Klosterets højre mure tjente dengang til beskyttelse, og i midten af anlægget ligger selve kirken. Der er flere andre faciliteter, som en oliemølle til udvinding af olivenolie, en vinpresser, en vinkælder, en stor tank til regnvand, stalde m.m.
Den mest imponerende bygning er dog selve kirken, der er dedikeret til den hellige treenighed, som agia triada betyder på græsk. Den velholdte kirke har tre kupler, to sidekapeller og mange flotte detaljer. Klokketårnet ved siden af kirken blev først bygget i 1864.
De besøgende kan også se et mindre museum (se billede nedenfor) med genstande helt tilbage til det 12. århundrede samt billeder og ikoner fra det 16. og 17. århundrede. På klosterets lille bibliotek opbevares nogle gamle og meget sjældne bøger.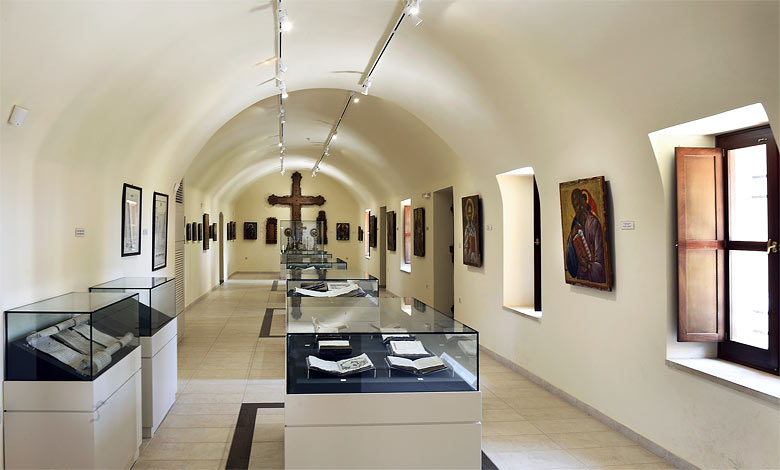 Inden turen går videre, er det muligt at købe klosterets egenproducerede produkter, for eksempel vin, olivenolie, balsamico, vineddike, honning og sæbe fremstillet af olivenolie. Produkterne er af høj kvalitet, og bliver til dels solgt uden for Kretas "grænser".
Det er nemt at komme til Agia Triada i lejebil, men for de som bor i Chania er prisen for en taxa overkommelig. Der er ca. 16 km og turen tager omkring en halv times tid.
Agia Triada kort
Kortet er zoomet helt ind på klosteret, og kirken med kuplerne ses tydeligt i midten. Ved indgangen i venstre side af kortet er der en stor trappe. Bilen kan parkeres lige i nærheden.